0. What extra admissions requirements are there for this degree?
None! If you are admitted to UGA, then you can choose "Atmospheric Sciences" as your major in Athena. It's as simple as that. We are not a large program that has to restrict the number of majors, unlike some other majors on the UGA campus.
1. What makes the UGA program unique from other universities offering programs in this field?
The UGA program provides a top-notch AMS and federally recognized curriculum in the atmospheric sciences taught by acclaimed professors recognized for both their teaching and research. Additionally, because our program is interdisciplinary, and focused in Geography, students are exposed to a broader set of academic coursework, training and experiences that make them competitive and, in some cases, unique compared to students who complete a traditional atmospheric sciences curriculum. In addition to the typical meteorology curriculum, students may choose coursework in Geographic Information Science (GIS), cartographic/remote sensing methods, climatology-climate sciences, and societal-human implications of weather and climate. Because we are located in Georgia, our students have easy access to and interactions with major weather-related employers such as The Weather Channel, commercial TV stations in Atlanta (which is a top-10 media market), Delta Air Lines, the National Weather Service in Peachtree City, GA, and other organizations.
2. Are there scholarships specifically for atmospheric sciences students, at UGA or elsewhere?
UGA: no, but UGA gives over $6 million in scholarships each year, many of them merit-based. See https://www.admissions.uga.edu/afford/scholarships/ for more information on those.
Also, the American Meteorological Society offers Freshman Undergraduate Scholarships, with an application deadline around the beginning of February of your senior year in high school; see https://www.ametsoc.org/index.cfm/ams/information-for/students/ams-scholarships-and-fellowships/ams-freshman-undergraduate-scholarship/ for more information. Two entering-freshman UGA students have won these AMS scholarships during the program's history, so it's worth a shot. 
3. Can I do this degree online?  If not, where should I look?
No. Our courses are taught in-person and there is no distance learning option at this time.  The Department of Geosciences at Mississippi State University offers an online meteorology degree; see https://www.online.msstate.edu/bomp for more details. Several UGA alumni have been/are faculty in Mississippi State's program.
4. Can I do this degree in 4 years?
Yes, even without pre-college course credits such as AP, dual enrollment, and/or IB. Students who take five years usually fall into one or more of these categories: a) transfer student who needed to take University/Franklin College/Core courses during their third year; b) students who have to retake one or more MATH or PHYS class and throw their schedules out of sequence; or c) health or family concerns.
5. Can I complete this degree as a transfer student?
Yes, about 40% of our students transfer into our program from another college or university. Please be in communication with our undergraduate advisor very early in your college career if you think you are transferring, so that your coursework will transfer correctly and will permit you to graduate in a total of 4 years. See our 2-Year Plan for transfer students under the Curriculum link for guidance, as well.
6. With the UGA Atmospheric Sciences degree, can I work as a meteorologist?
Yes, our degree meets both Federal requirements for civil service employment as a meteorologist (e.g., with the National Weather Service, NOAA, NASA, FAA, etc.) and the American Meteorological Society's recommended atmospheric sciences coursework for completion of the Certified Broadcast Meteorologist (CBM).
According to the Bureau of Labor and Statistics (BLS): "Employment of atmospheric scientists is projected to grow 9 percent from 2014 to 2024, faster than the average for all occupations. The best job prospects for atmospheric scientists will be in private industry."-- http://www.bls.gov/ooh/life-physical-and-social-science/atmospheric-scientists-including-meteorologists.htm. The average salary for meteorologists in Georgia has outpaced the nationwide average by 9% (http://salarybystate.org/tag/demand-for-meteorologist-2013). Local and regional employers like Delta Air Lines, Southern Company, Panasonic, and Coca Cola employ meteorologists and atmospheric scientists. The private sector represents an area of significant growth in this field and the state of Georgia will need to keep pace. As BLS notes, there is significant growth opportunity in the private sector (airlines, consulting, reinsurance, air quality, agriculture, media, digital media, etc.). Additionally, because it is recommended that our students also attain the Geography degree, our students are trained with broad skills in Geographic Information Science (GIS) and social sciences. The Association of American Geographers (AAG) recently reported that median salaries and job growth for geography continue to outpace the average in other disciplines.
Though a small (but visible) part of the job market in meteorology, the broadcast sector is changing rapidly. The UGA Atmospheric Sciences Program faculty met with the CEO and senior executives at the Weather Channel. They overwhelmingly stated that the emerging market in broadcast is digital meteorology and that future meteorologists will require atmospheric sciences that they have seen in the current group of UGA graduates and interns now at The Weather Channel, which is based in Georgia. Similar needs have been expressed by CNN as well as local television stations. 
In the federal sector, the National Weather Service (NWS)'s Weather Ready Nation is "building community resilience in the face of increasing vulnerability to extreme weather and water events." (http://www.nws.noaa.gov/com/weatherreadynation/#.VoqjhUsXF_c). NWS managers are increasingly asking for a new generation of atmospheric scientists versed in meteorology, GIS, social sciences, and communication. Our program has also experienced increased interest from the U.S. Forest Service (Athens), Department of Energy (Augusta), and FEMA (Atlanta). Such agencies have emerging needs for broadly trained atmospheric scientists or meteorologists with cross-disciplinary perspectives.
7. What are careers/jobs that Atmospheric Sciences alumni have pursued after graduation?
Our graduates have gone on to positions in: broadcast meteorology; the military; the National Weather Service; emergency management; aviation; the energy/utilities industry; environmental consulting and advocacy; research; and teaching, among other pursuits.
8. I want to be a TV or broadcast meteorologist; shouldn't I get a journalism or communications degree and take a few atmospheric sciences courses?
The trend in the broadcast field is toward hiring meteorologists rather than journalists. Most station managers now hire broadcast meteorologists who either have the AMS CBM (Certified Broadcast Meteorology seal) or are qualified to apply for the CBM. The CBM is administered by the AMS and requires a comprehensive test, in addition to an on-camera presentation. It is important to note that you will not even be allowed to take the CBM test if you do not have certain core atmospheric sciences coursework on your transcript. Our program's curriculum meets this requirement.
9. Do UGA students get internships?
Yes, in fact a 3-credit internship or research experience is required for our major and also satisfies the University's Experiential Learning requirement. We strongly emphasize internships and assist students in finding them. Our students have interned at the NWS/NOAA, The Weather Channel, CNN, Delta Air Lines, the FAA, and local television stations in Atlanta, Birmingham, and other markets. Several of our students have won NOAA Hollings Scholarships which provide an all-expenses-paid internship at a NOAA facility. Others have applied for and gotten NWS Pathways internships at NWS offices around the nation. Our students interested in graduate school have attended NSF-funded Research Experiences for Undergraduates (REUs) around the nation, which are also all-expenses-paid. 
10. Do atmospheric sciences students continue to graduate school or enter the workforce?
It's about 50/50. The most recent statistics show that 47% of our ATSC alumni have gone to graduate or professional school; of those, about three-quarters went into something atmosphere sciences-related. The others pursued graduate degrees in GIScience, MBAs, data analytics, law school, etc.  Of those who go into the atmospheric sciences for graduate school (about 35% of all graduates), they have attended many of the top meteorology/atmospheric science graduate programs in the nation, including Colorado State, Florida State, Penn State, and Texas A&M, among other programs. Those who go directly into the workforce upon graduation are most often entering the fields of broadcast meteorology, GIS analysts, the military, and private-sector (but not broadcast) meteorology. During the 2010s it became very difficult to enter the National Weather Service with just an undergraduate degree in meteorology/atmospheric sciences.
 
11. Where are you located, and how do I get to your building?
For out-of-staters: UGA is located in Athens, Georgia (not Atlanta), about 70 miles east-northeast of Atlanta in the rolling hills of the Piedmont. The South is not flat, and UGA is just a 2-3 hours south from the highest terrain in the entire Appalachian Mountain system, which significantly influences our weather in northeast Georgia.
To get here from Atlanta by car: a typical route is I-85 North to Highway 316; follow the signs to Athens and UGA from there, and be careful on 316 since it is not a limited-access highway. 
Once you're on campus: the Geography/Geology Building is located right in the middle of the UGA campus, on the side of "Science Hill" that slopes down to Sanford Stadium.
If you have a car: parking is tight on campus and there's no visitor parking next to most buildings. The best options are either the Tate Student Center parking deck, accessible from Lumpkin Street; or the South Deck on Sanford Drive.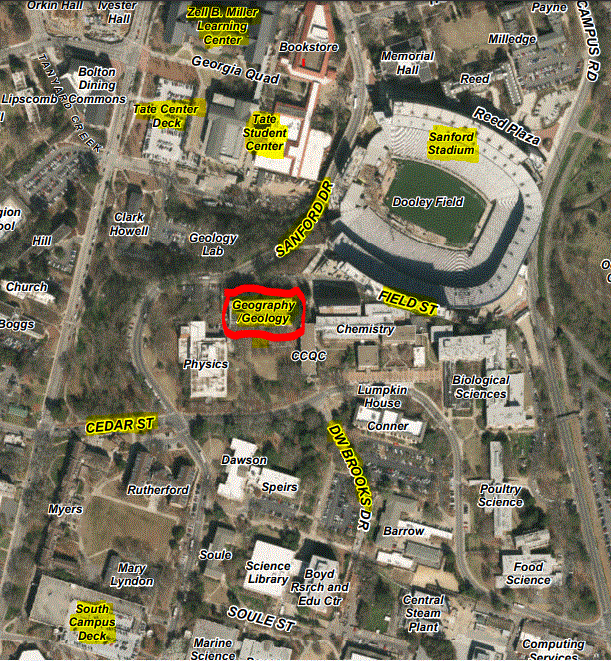 From the Tate Student Center/North Campus: get onto the Sanford Drive bridge that separates Tate from the football stadium. Walk on the bridge with the stadium on your left. Shortly after the bridge ends you'll walk up a small hill. The Geography/Geology Building will be on your left. Walk to the first-floor entrance and go in. (For those who need it, there is a wheelchair-accessible entrance on the left end of the building--just go up the slope and look for the sign.) Our professors, classrooms, and departmental office are mostly located on the first and second floors, and our broadcast studio is in the basement.  
From South Deck: if you're coming from the South Deck, walk along Sanford Drive in the direction away from the big Stegeman Coliseum. You'll get to a traffic light at the intersection of Sanford Drive and Cedar Street. Cross over to the right-hand side of the road if not already. Then cross Cedar Street and walk on the sidewalk around a big bend in the road. At the fork in the road where Sanford goes down to the bridge, keep going straight on Field Street, up a slope. The Geography/Geology Building will appear next to you on the right, hidden by magnolia trees until you see the first-floor entrance. If you need a wheelchair-accessible entrance, just keep going up that sidewalk and you'll see a sign pointing to the right. 
From elsewhere on South Campus: in most cases, the best option will be to take a bus that's headed toward North Campus or "The Arch," and get off at the Physics stop. (The buses automatically stop at each bus stop.) Then walk on the adjacent sidewalk around the big curve, and then do the rest as described above in "From South Deck." 
If, however, you are located near the Life Sciences complex on South Campus, there's a 'hole' in bus service around there and your best bet is to walk up the hill along the greenway that is called D.W. Brooks Mall. It comes to a T-intersection with Cedar Street. Go left a little ways down Science Hill along Cedar Street, and then jaywalk across the street to a long straight sidewalk. This sidewalk will lead you to a patio and then the second-floor entrance of the Geography/Geology Building, with a giant globe just inside the doors.
On Game Days: forget it, our building is within a few hundred feet of the football stadium and people tailgate all around it, on the steps, everywhere. We keep the building locked then.