Image: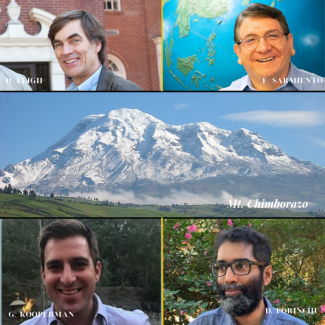 Four UGA Geography faculty have joined to move mountain studies further, with the support of two competitive seed grant programs on campus. The group led by our department's very own Dr. Fausto Sarmiento includes faculty from Arts and Sciences, Environment + Design, Forestry, Horticulture, Ecology, and Journalism. The TIR program from the Vice President of Research will allow for the preparation of a large grant to create the Institute for Convergent Mountain Science. The GRCG program from the Office of Global Engagement will facilitate the preparation of a large grant for a panoptic study for sustainable and regenerative development of Mt. Chimborazo Mountain Reserve with faculty from the Superior School Polytechnic of Chimborazo (ESPOCH).
The UGA mountain studies research cluster includes 13 faculty from 5 different colleges, including 4 UGA Geography professors, Drs. David Leigh, David Porinchu, Gabriel Kooperman, and Fausto Sarmiento.
More information on the project can be found here: https://bit.ly/3FXVvhq.